How To

Published on July 11th, 2015 | by iGoPedia
0
How to make iPad Internet fast when websites and video streaming are slow
If your iPad or iPad Air is the only device connected to your Wi-Fi connection loading web pages of websites really slow or video streaming from applications refuse to work, you should follow the instructions from this tutorial as it should solve your issue.
How to make iPad Internet fast when websites and video streaming are slow
Step 1 : From the iPad's home screen, find Settings and tap it.
Step 2 : Choose Wi-Fi from the left-hand sidebar. You should see a list of Wi-Fi networks. Select the one with the blue tick mark if your iPad has already been connected to the Wi-Fi network. If no network has been selected, connect to one and try again.
Step 3 : Your screen should look like the contents of the screenshot below.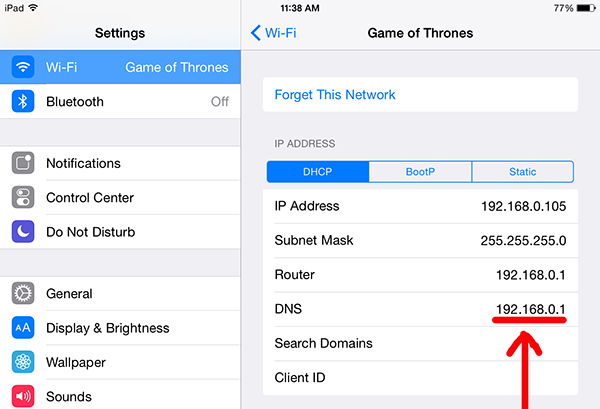 Follow the instructions below :
Touch the DNS box and remove everything from that box ONLY.
Type in 8.8.8.8
Press the arrow to navigate back to the previous page.
Turn off Wi-Fi.
Turn back on Wi-Fi and try using the Internet again.
Your iPad or iPad Air should load web pages faster and video streaming from apps should also be faster.