Published on September 22nd, 2012 | by iGoPedia
iPhone 5's Apple A6 Chip Compared To The iPhone 4S's A5 Chip, Benchmark Results And Side By Side Video Comparison
Before rushing into purchasing an iPhone 5, you should always check the performance of the smartphone. Sure, as it's the next generation of the iPhone line by Apple you might assume everything is better. However that's not the question – they are; [1] how better is it in terms of performance and [2] should I consider getting myself one or skip it?
According to benchmark results from PrimateLabs.com, the iPhone 5 tops all of its family members.
iPhone 3, 3GS, 4, 4S and 5 Benchmark Results

| Device | Score |
| --- | --- |
| iPhone 5 | 1584 |
| iPhone 4S | 639 |
| iPhone 4 (CDMA) | 380 |
| iPhone 4 | 375 |
| iPhone 3GS | 276 |
| iPhone 3 | 136 |
The A6 chip takes advantage of a 1.2 GHz custom designed ARMv7 dual-core processor. It has an integrated triple core SGX543MP3 GPU (graphics processing unit) which was said to have the same performance as Apple's iPad 3 tablet. Let's not forget, Apple promised to us that the iPhone 5 will perform twice as well as the last gen iPhone.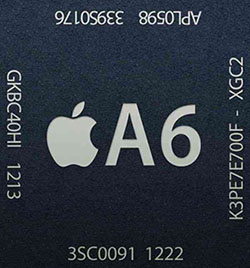 ( Above you can view a picture of the Apple A6 chip )
The part number of the A6 chip to the right is K3PE7E700F – XGC2. Breaking the number down, K3P represents a dual-channel LPDDR2 package with 32-bit channels. E7E7 represents 512MB density of each DRAM die of a total of 1GB of RAM. At the end, the C2 reveals the 1066MHz cycle time and data rate.
Scroll up and you should find an embed video. All credits for the video goes to TY Moss.
From the video, you will notice that the iPhone 5 is indeed faster than the iPhone 4S. Graphics is better and games load faster on the iPhone 5 when compared side by side with the iPhone 4S. However, the iPhone 4S did have its time to shine by slightly beating the iPhone 5 for some tasks.