How To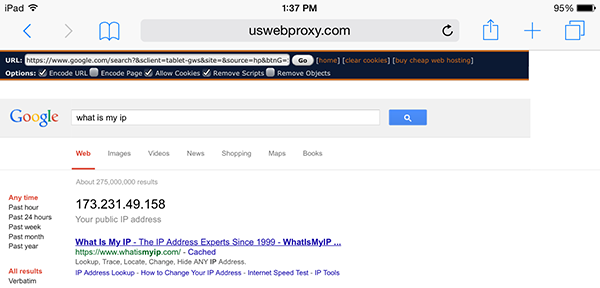 Published on July 9th, 2015 | by iGoPedia
0
How to mask / hide your IP address on iPhone or iPad
Have you ever wanted to browse the Internet without giving your IP address away either it be a forum that you join or a web chat that you use from your iPhone or iPad? This guide teaches you how you can surf the web anonymously when using either devices.
How to Mask / Hide your IP address on iPhone or iPad
You can use (scroll down to view each method explained) :
Using a Proxy
There are many free proxy websites available on the Internet you can use.
For this example, we will use USWebProxy.com :
Turn on your iPhone or iPad and open Safari.
Type in "USWebProxy.com" in the URL address bar and go to the site.
Scroll down and type in the site you want to visit anonymously and hit the "Proxy Now!" button.
You can check to see if your IP address changed while surfing the web through the proxy site by going to Google and searching for "what is my IP". If you used the same proxy site that was mentioned earlier, the IP should be 173.231.49.158 unless they changed the IP. Of course, it will always be different from your current IP address.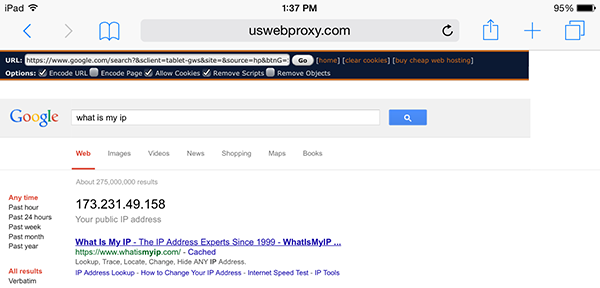 Using a VPN (Virtual Private Network)
Unlike a proxy, a VPN can also be used to hide your IP address when using apps such as the App Store.
To use a VPN on your iPhone or iPad, follow the instructions below :
Select the 'Settings' icon from your iPhone or iPad.
Select 'Wi-Fi' from the sidebar.
Tap the Wi-Fi network you are currently using (you should see a blue tick).
At the bottom, you should find a heading saying, "HTTP Proxy". Select 'Manual'.
Type in the server and port information that you are provided with when obtaining access to a VPN.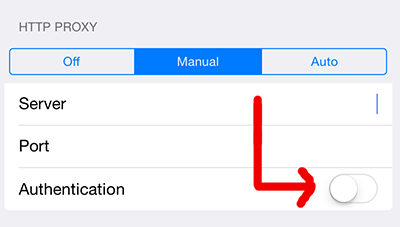 Free Virtual Private Networks :
| | | | | |
| --- | --- | --- | --- | --- |
| Location | VPN Server | Protocol | Username | Password |
| US – Chicago | 67.212.175.123 | PPTP | freevpnaccess.com | 1025 |
| UK – London | 83.170.84.216 | PPTP | freevpnaccess.com | 2687 |
| Canada – Montreal | 184.107.164.10 | PPTP | freevpnaccess.com | 2228 |
| NL – Haarlem | 212.7.192.139 | PPTP | freevpnaccess.com | 1486 |
| US – Miami | 69.60.121.29 | PPTP | freevpnaccess.com | 8882 |
| UK – Maidenhead | 94.76.233.203 | PPTP | freevpnaccess.com | 1048 |
Virtual private networks are from FreeVpnAccess.com. You can go there to find more.