iPad News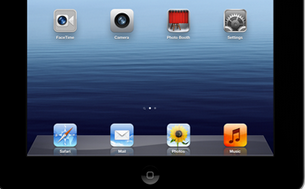 Published on April 2nd, 2013 | by iGoPedia
0
Applications that came pre-installed on the iPad with Retina display
If you are thinking about getting the iPad with Retina display (also known as the iPad 4), and you want to know what applications you get pre-installed with the tablet, you're in luck. This web page shows a list of apps that comes with the iPad 4.
Safari
Safari is the default web browser that comes with any iOS device. Once you have connection to the Internet, you can surf the web to your heart's content. Web pages load pretty quickly, however, the browser does not support certain website effects.
Mail
Just like gMail on Android (actually, the gMail Android application is actually better in my opinion), the iPad has its own mailing application. Receive an alert when your inbox message number increases, send emails and view several of your mail's folders.
Siri
You can not view Siri as an application from your home screen, however, it is a feature of iOS 6 on the iPad 4. The feature is disabled (well, it was disabled when I first received by iPad with Retina display), therefore, you will be required to enable it Via settings.
Messages (people can it iMessages)
This is the official application that iOS device owners can use to send messages to other iOS device owners. Exchange Apple ID and you're set to go. The app is sort of like BlackBerry's BBM when we're talking about messaging. You get alerted when you receive a message, and it works over Wi-Fi, unlike BlackBerry's BBM.
FaceTime
One of my favorite features of iOS is definitely FaceTime. Video chat with anyone that you exhange Apple ID with straight from an iOS device, once both Facetime users are connected to a Wi-Fi or cellular network. Receive an alert when someone calls you, call anyone at anytime, and video chat like crazy. Why do we need Skype again?
Photos
The iPad has both a rear and front facing camera. Any photo that either camera captures will be listed in the Photos app. Create albums, view pictures, and watch photos in a slideshow – it's all possible with the iOS Photo application that comes pre-installed on the iPad.
Camera
It appears that I have talked too soon. Above I mentioned the photos application, and now there is the camera app. Take advantage of the iOS camera app to snap good quality pictures using either the iPad's front facing or rear facing camera.
Maps
Apple introduced Apple Maps with iOS 6. Some people hate it, some people now love it – you decide. The application might only be available in selected countries, however, I think that Apple is hiring mappers from around the world so that more locates can take advantage of this iOS feature.
Clock
I have never used the iPad's clock application much, or should I say at all. Wait! Besides the little timer at the top of the iPad's screen, but I don't think that it counts. Anyway the clock app makes it possible to view time and set alarms.
Photo Booth
Some people, like my sister for example, can't keep their hands off of my iPad because of the Photo Booth application. You have to try it for yourself to see what it's all about. Basically, it's one of those photo booths like you see in arcades.
Take a look at Photo Booth on the iPad 2 (basically the same).
Calender
Of course, there is the calender. I don't think that I have to explain this one, now do I…?
Contacts
Save and delete contacts on your iPad. Now, I know what you're thinking – the iPad is not a phone. Well, some iPads have cellular data, however, the ones that do not can take advantage of FaceTime and iMessages. So there, problem solved.
Notes
Never used the Notes app on my iPad, but it's always good to have, to, well… make notes.
Reminders
If you have no idea how to set up a reminder with the reminder application, then do not use it. Trust me, you will not be reminded and you will miss an important event. Don't follow the same mistakes I did in the past. Just trust me.
Newsstand
It says that you can download magazines and newspapers from the App Store. I guess if you actually do that, the content will be displayed in the newsstand application on the iPad. It's worth a shot, but my newsstand is currently empty because I never purchase magazines or newspapers. Weird, I know.
iTunes
We all know what this does. If not, you're obviously living under a rock (inserts smile here). Basically, you can use the iTunes app to purchase music, rent movies, and grab freebie content. I recommend not to waste your time with the freebie offers unless you enjoy watching trailers.
App Store
The application that allows you to download free and paid iOS applications.
Game Center
The title says it all, and no, it does not come packed with a bucket load of games. It's basically a feature of iOS that keeps record of achievements that you were awarded in iOS games that support Game Center. You can add friends, etc.
Settings
You can manage all of the iPad's settings from here.
Videos
Any video that you purchase from iTunes, or send to your iPad will be listed in the videos application. However, videos that you record directly from the iPad will most likely be saved in the Photos application (not sure why, and I'm not sure if this can be changed).
Music
Like the videos application, just for music that you purchased or sent to the iPad.